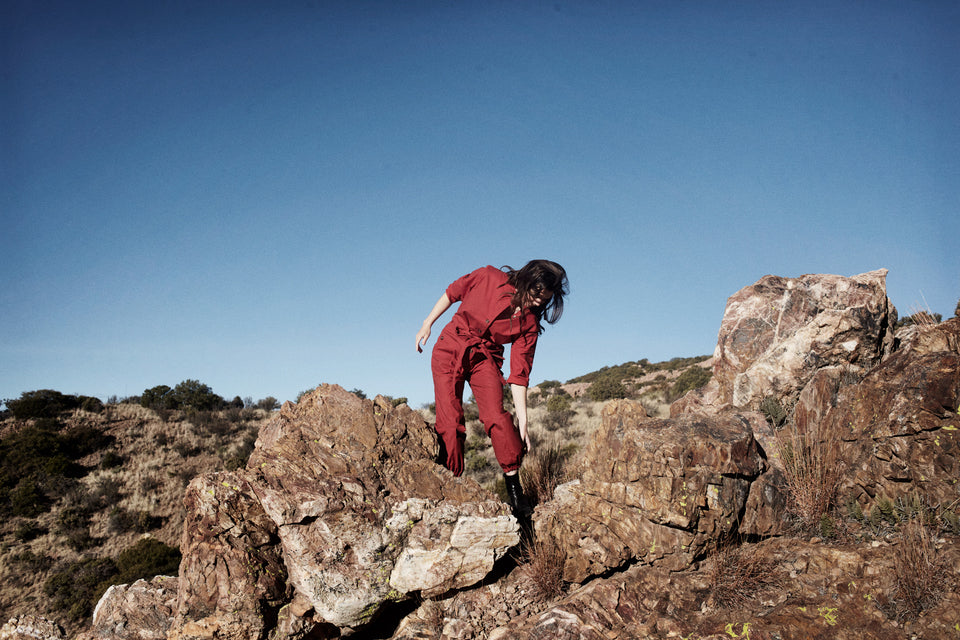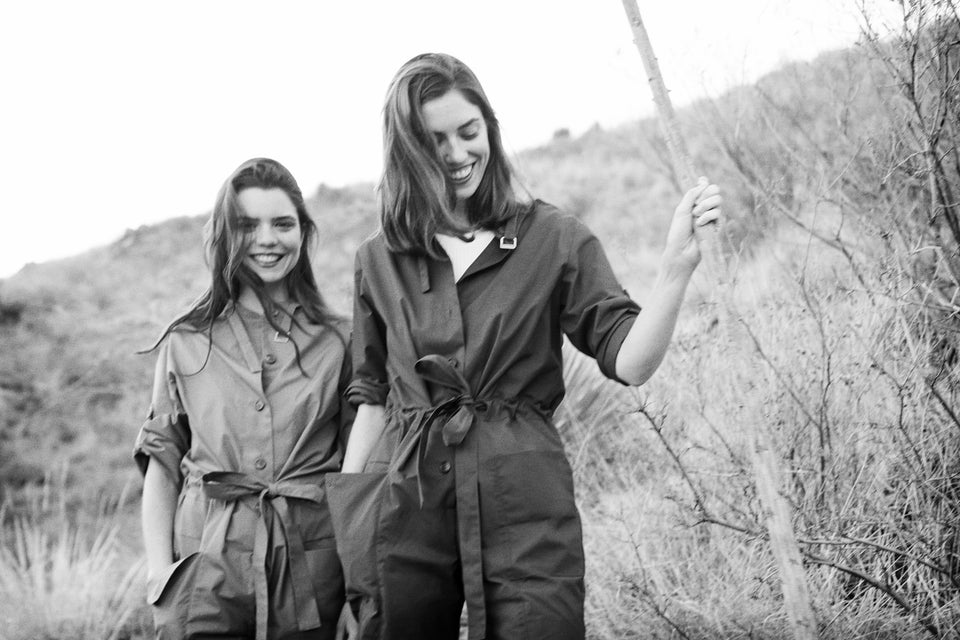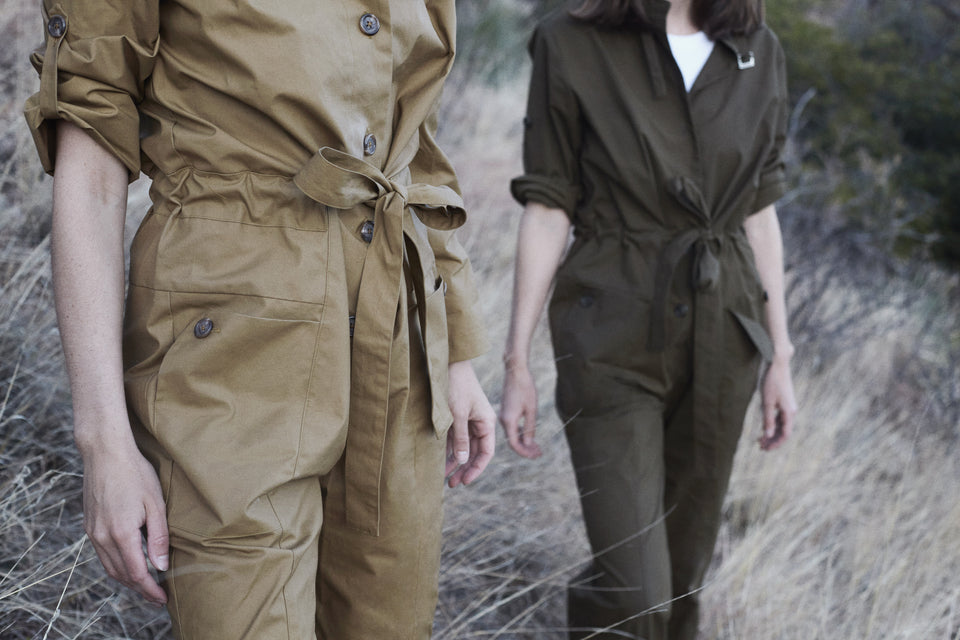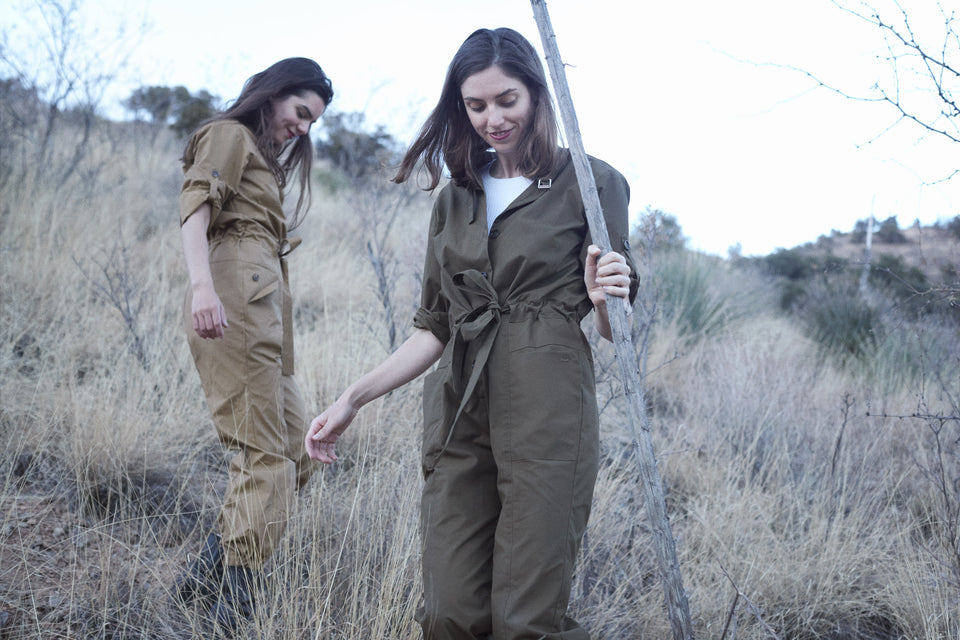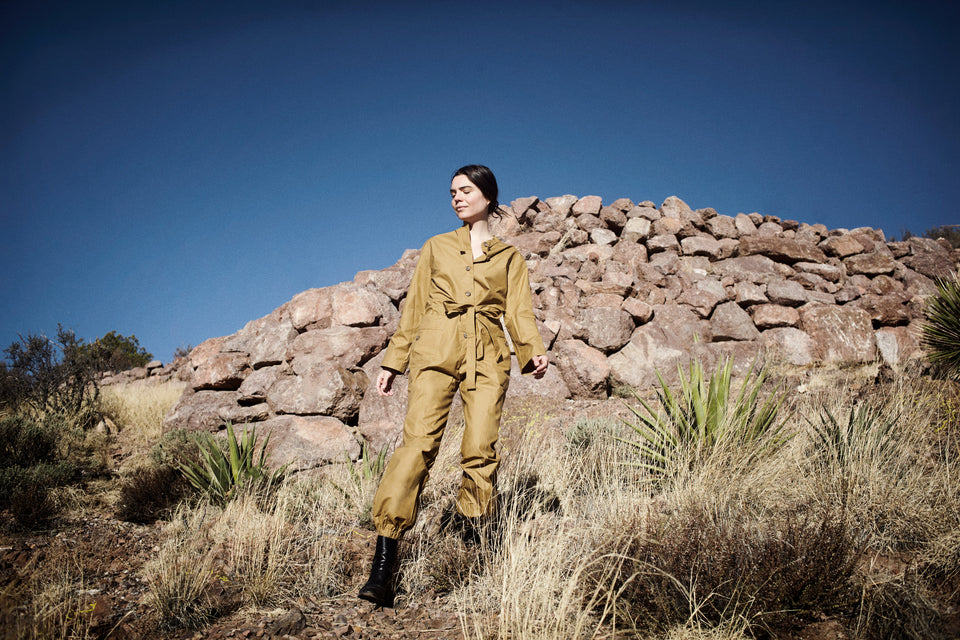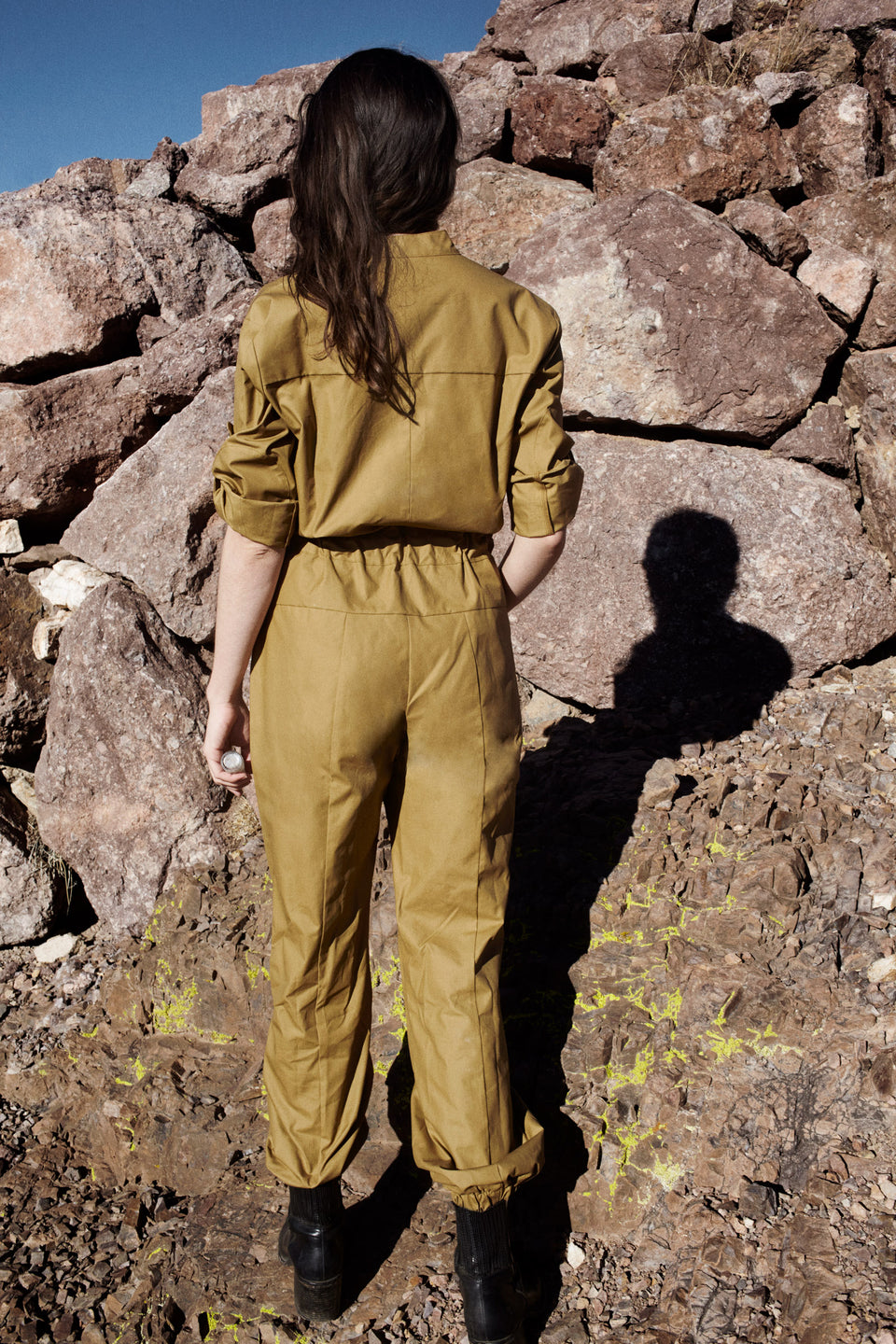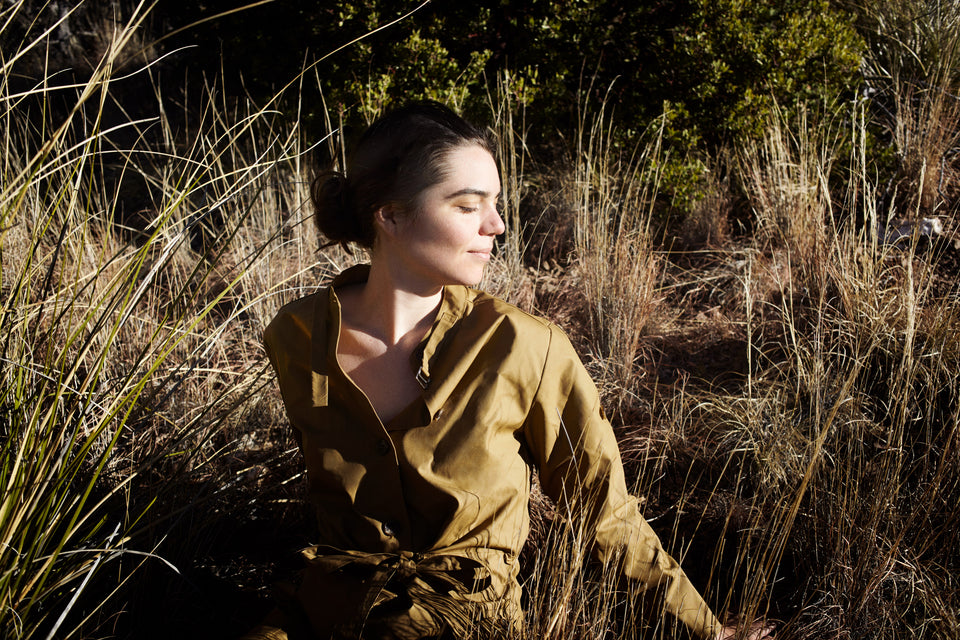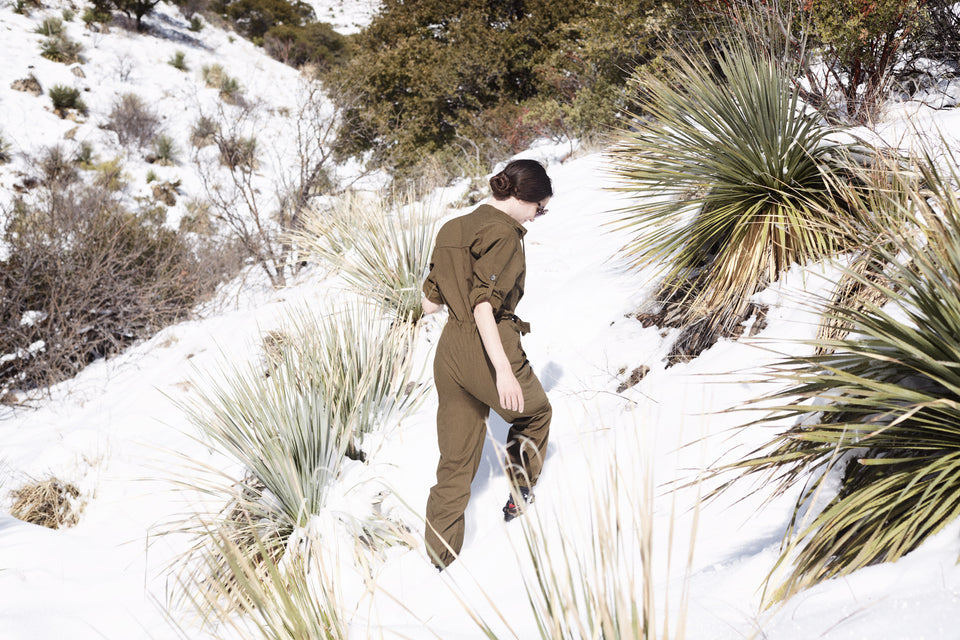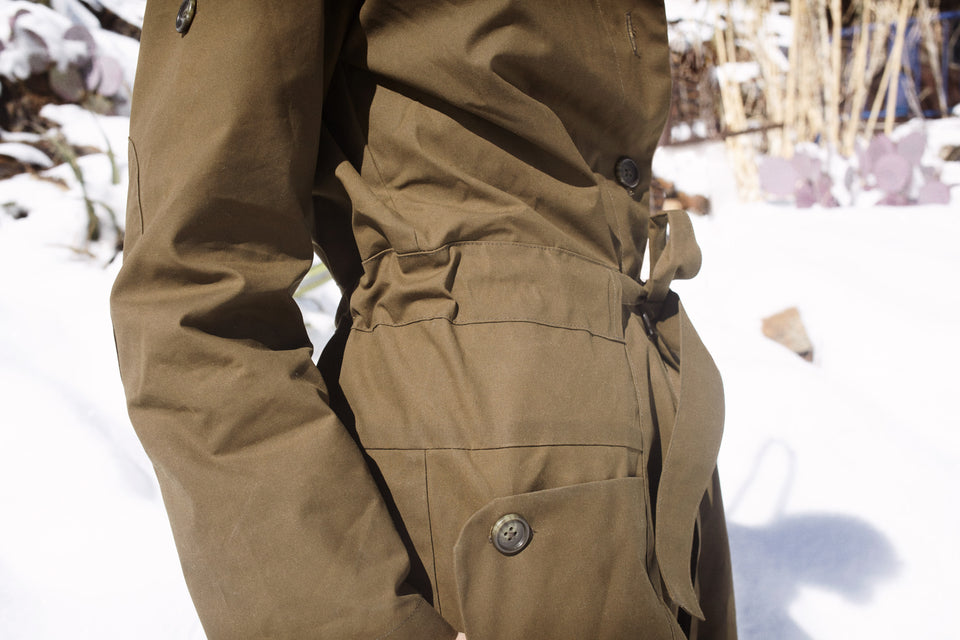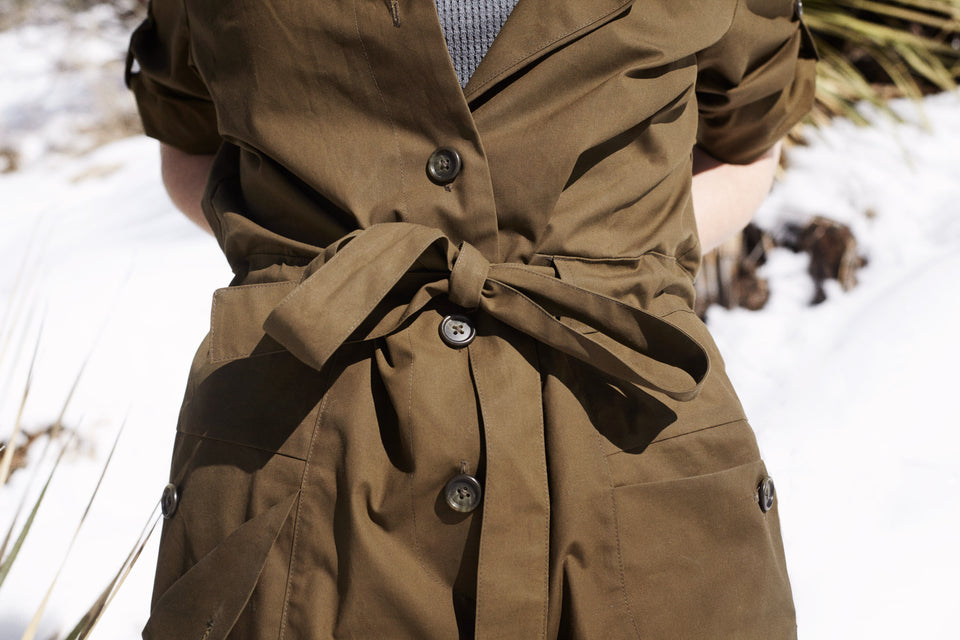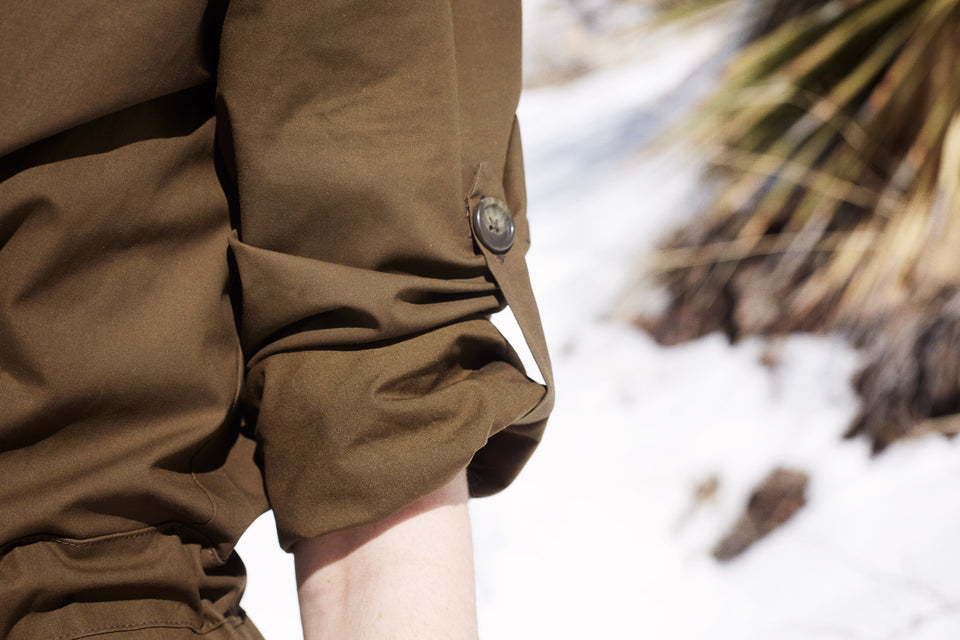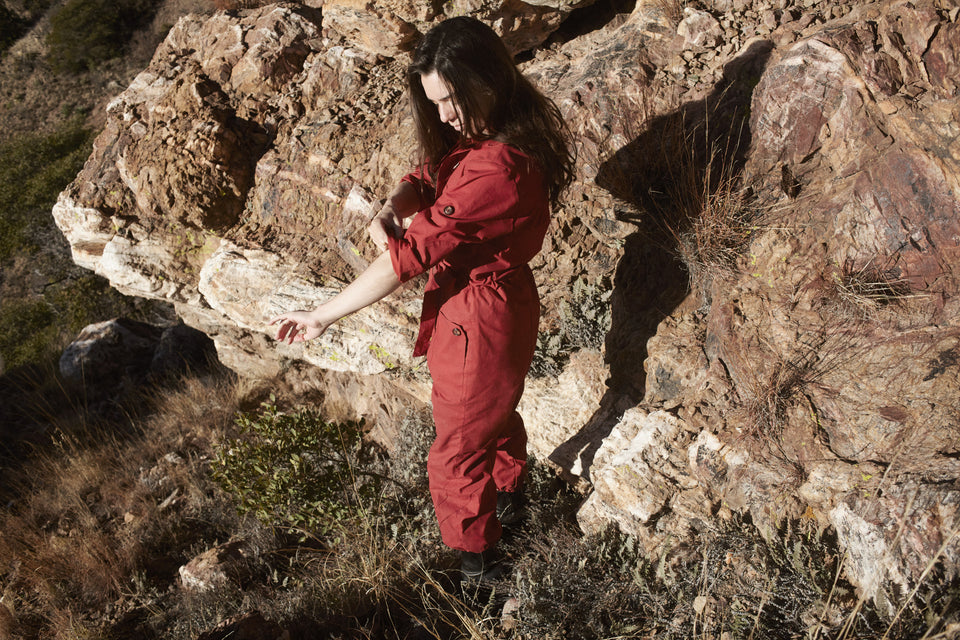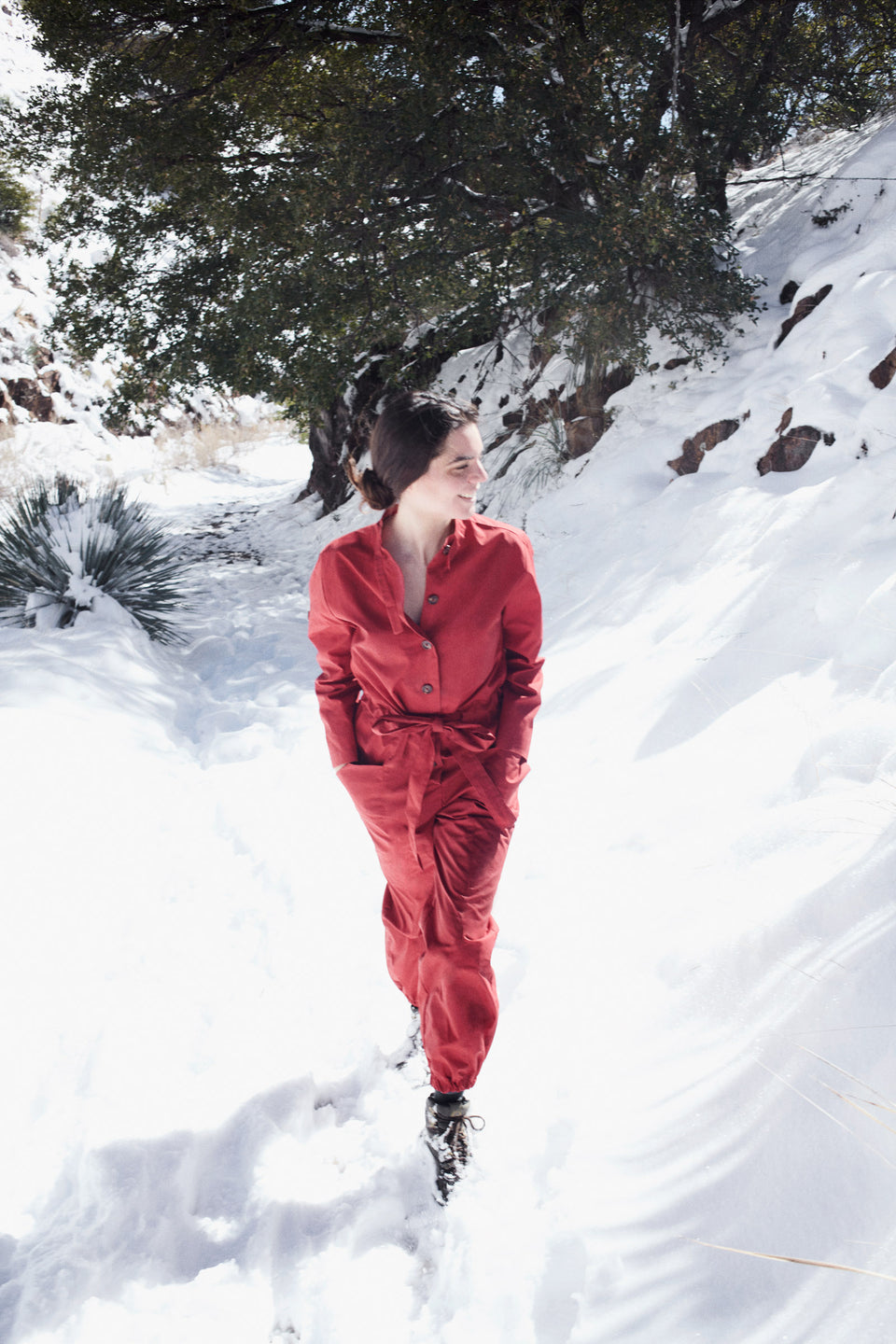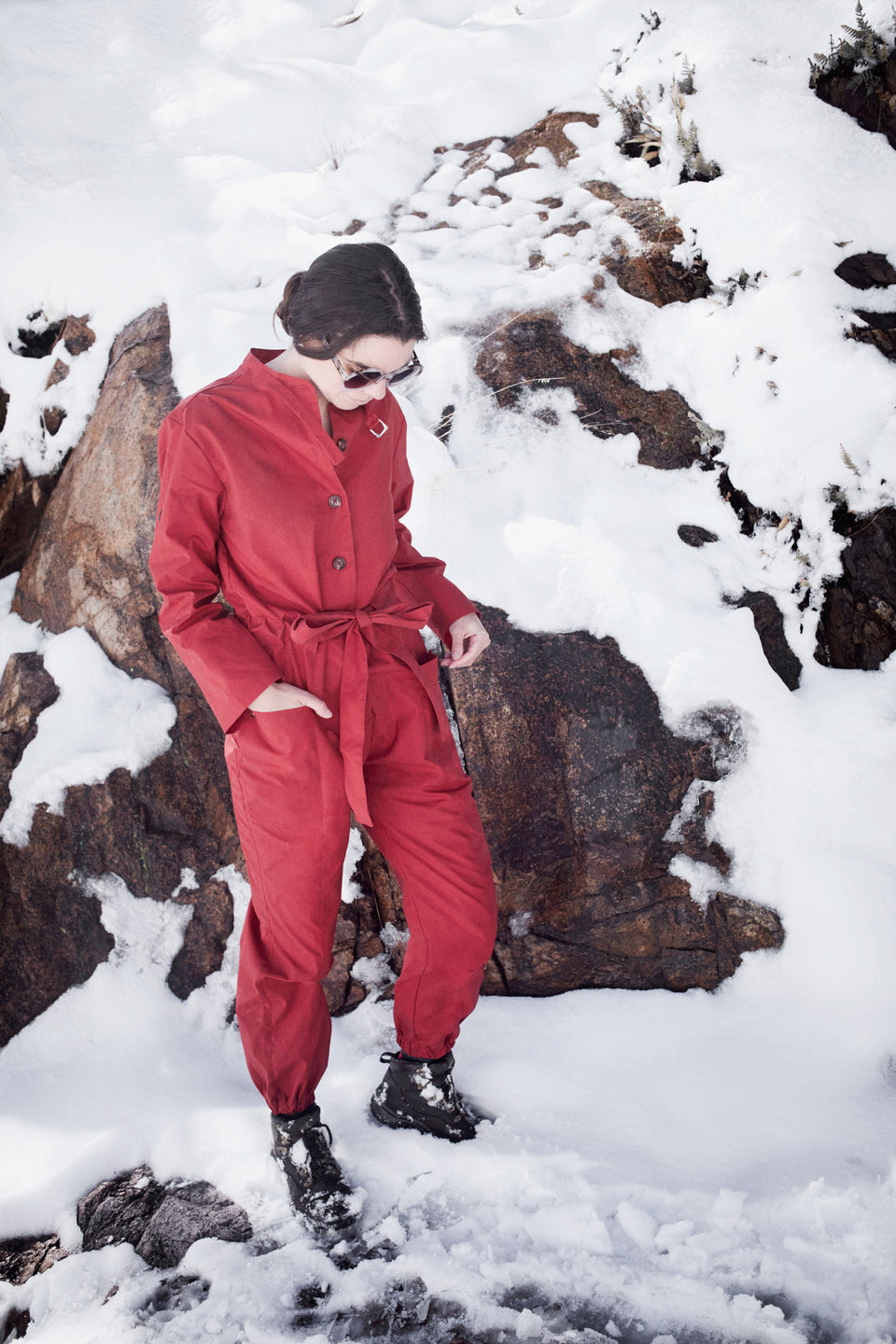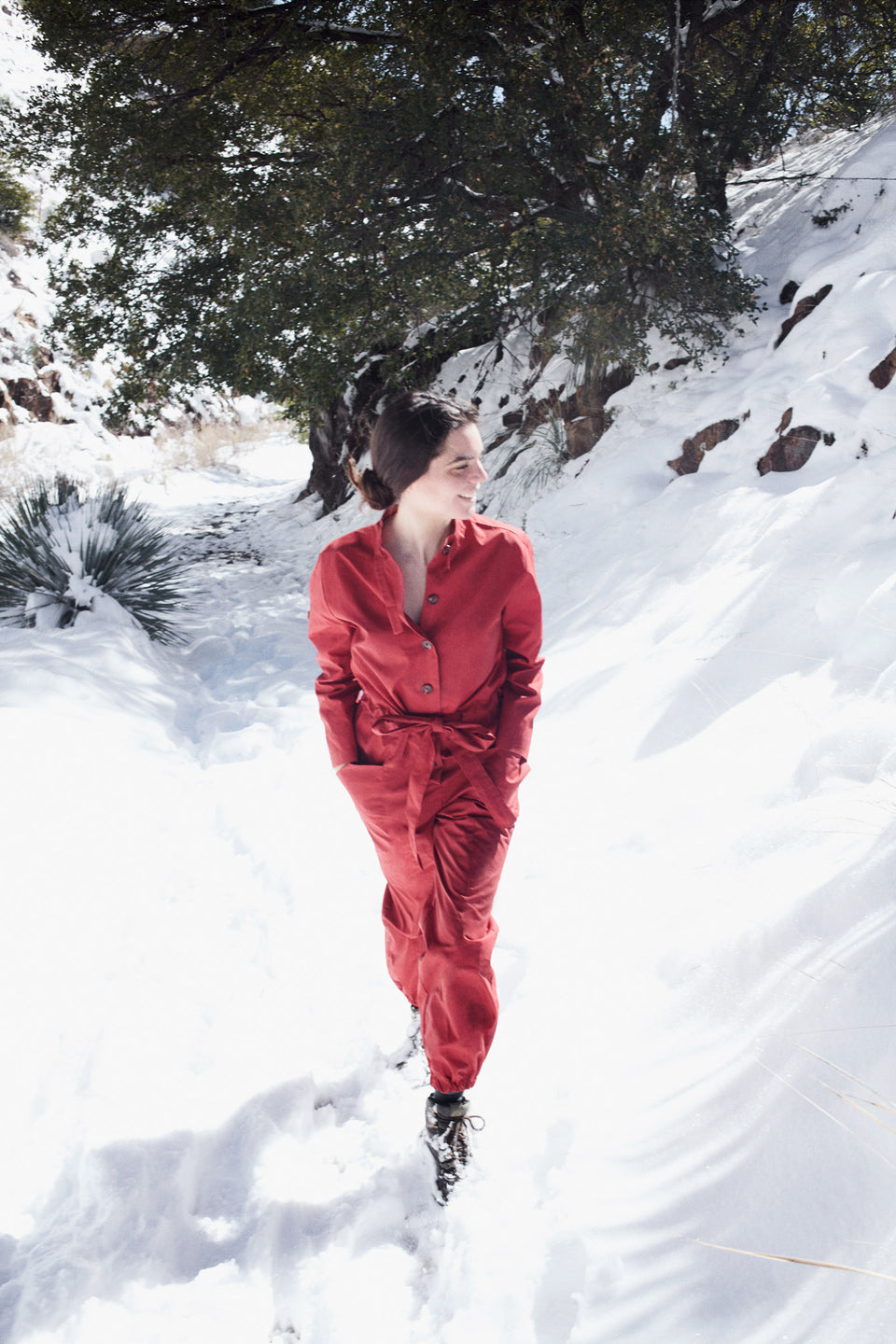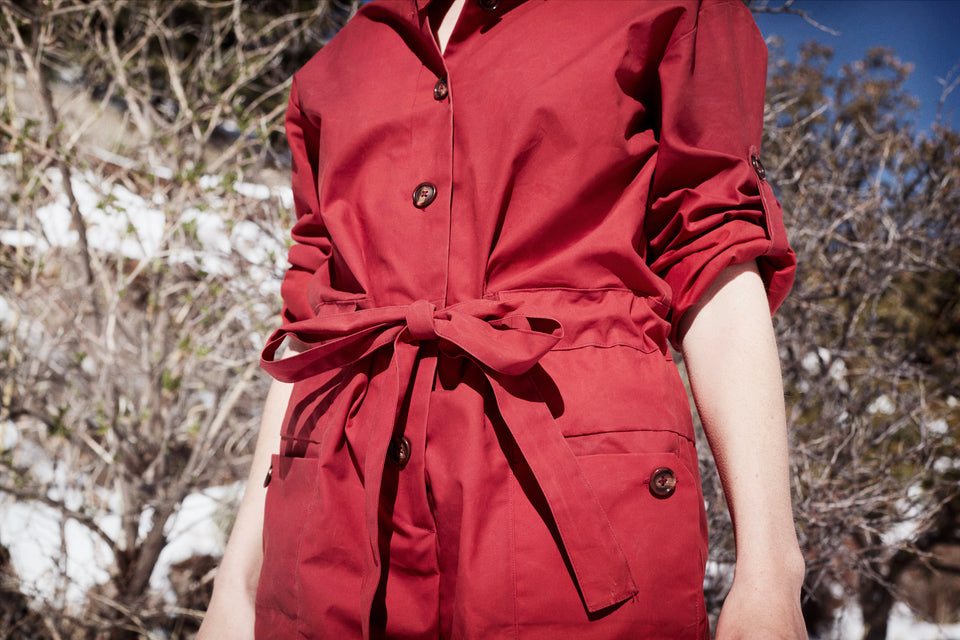 Weather Proof Utility Jumpsuit
by Object Hotel
Waterproof fitted jumpsuit designed by Studio Rachel Brand and William Nathan at Object Hotel. Inspired by 20s' (1920s) female aviation pioneers this uniform is designed for wherever the road takes you. Available in Ruby, Olive, and Ochre (Tan). Text our designer team for more fit details! 520-216-5805
Made in a family run factory in Los Angeles.
Machine wash on cold setting, Tumble dry cold, iron cold.  Do not fold when wet.
Enjoy hiking in lightweight fabric that is durable enough to keep you protected from the wind, rain, and snow.  Layer clothing underneath in cooler weather or throw this jumpsuit on over workout clothes for a sharp look during the workday with an easy change once you hit the gym.   Pair with ankle boots to dress up and go out.
About the Fabric
Our fabric is sourced from the British Millerain, the company that invented waterproof cotton for sails in the 1800s and continues to manufacture the highest quality available.  Waxed cotton/canvas develops creases and can be removed by ironing the fabric.  We love using protective materials that tell a story over time.
The British Navy pioneered the development of waxed cotton.  Applying wax to the fabric instead of linseed oil improved the water-resistance and breathability.  It was much softer as well allowing flexibility for sails and comfort when worn as protective apparel (capes and hats). The waxed cotton was an instant success and was then introduced to the UK market.  Well known country attire and motorcycle brands quickly adopted the waxed cotton as breathable, protective apparel.
Pair with ankle boots!  The pants come just above the ankle.
Model wears size Small.  For sizing details see below!
All Photos by Puspa Lohmeyer.
Size Small :
Crotch to ankle 26 inches
Crotch to collar 29 1/4 inches
Circumference around bust 37 inches
Size Medium:
Crotch to ankle 27 inches
Crotch to collar 31 inches
Circumference at bust 

 

40 inches
Size Large:
Crotch to ankle 27 1/4 inches
Crotch to collar 32 1/2 inches
Circumference at bust 42 1/2 inches
Text our designer team for more fit details! 520-216-5805